Marketing is the job that's never done. There are always new campaigns to plan and launch. New tactics to master and roll out. And new targets to chase down and beat.
The pressure that comes with delivering a return on your marketing spend can be intense. So it's no wonder that some marketers succumb to the temptation and venture to the dark side in search of more leads, an advantage over the competition or a shortcut to success.
Ethics are rarely black and white. There's a spectrum. A fair bit of grey. What's unethical to one marketer might be accepted practice to another.
Niles Crane got a nose bleed whenever he betrayed his ethics. But if you don't have a similar physical response to help keep you in line, hopefully this post will help.
We've pulled together some great examples of unethical marketing. The idea here is to highlight some of the different ways marketers can slide right through the grey and into the black when it comes to ethics. We'll also look at the potential consequences and takeaways.
Unethical Marketing Example #1: Engaging In Blackhat SEO
Blackhat SEO is a broad term used to describe tactics designed to trick Google's search algorithm. The aim is to get pages returned higher in search results than they deserve. Here are some common blackhat SEO tactics from the wild west years of search:
Hiding spammy text stuffed full of keywords so only search engines see it
Paying for links to important pages on your site
Using blog comments or forums to plant links back to your site
Jamming keywords into title tags, alt tags and other bits of the page Google looks at
Using clickbait headlines that bear no relation to the content on your page
For the most part, Google's algorithm is too smart for these tactics nowadays. But it's not surprising that marketers dabble in ethically-questionable SEO activities. Google's search algorithm is a black box. Sure, there are plenty of guidelines and lots of free advice about best practice. But every marketer will have experienced their share of head-scratching moments when sites breaking all the rules rank #1. Or sites doing everything right rank nowhere. And it's not as if you can call customer support.
So, what are the consequences of engaging in blackhat SEO?
It could be ranking #1 for your target keywords. But usually success with blackhat tactics is short-lived and comes at a price. If you get a manual penalty you could find your pages pushed so far down the search results that nobody will see them. If you rely on Google for a significant share of your traffic that could be catastrophic.
One famous example occurred back in 2006, when Google gave BMW what some called a "death penalty" by completely removing the car giant's German site from its index. BMW.de had been using redirects to send users to different pages to the ones Google had indexed and returned in search results. This is what Google's then head of anti-spam, Matt Cutts, had to say about it.
And where is blackhat SEO on the unethical marketing scale?
We've put each of our examples on an unethical marketing scale. One devil is a minor ethical breach. Five is the worst kind of unethical behaviour.
Unethical Marketing Example #2: Posting Fake Reviews
Ranking #1 for your target keywords is an excellent way to get relevant traffic on to your website. But when it comes to closing deals nothing beats 5-star reviews. If your existing customers like your product or service enough to review it, then it can provide the social proof new customers need to part with their money.
The problem with reviews is that they are often anonymous. How do you know these reviews are legitimate? Did dragonslayer1992 really just have the best spa experience of her life or did a desperate marketer take an ethics holiday?
So, what are the consequences of posting fake reviews?
There are plenty of examples of brands – or over-enthusiastic employees – resorting to creating their own positive reviews in a bid to boost sales. Facebook recently had to respond to news stories suggesting its employees had been posting 5-star Amazon reviews for its connected home offering, Portal.
When it comes to convincing people to install a voice-activated smart camera in their homes, Facebook probably has bigger issues than fabricated reviews. But it's still embarrassing and undoubtedly an ethical failure on the part of the reviewers and whoever sanctioned it.
And, where are fake reviews on the unethical marketing scale?
Unethical Marketing Example #3: Nobbling The Competition
Some marketers avoid blackhat SEO and posting fake reviews because of their ethics. Others just don't like the idea of getting caught.
Among that second group are a particularly nefarious bunch that use their mastery of underhand marketing tactics to damage a competitor.
Henry Ford said the competitor to fear was the one who spent all their time improving their business and never worried about what you were doing. If only everyone took that approach. The reality is that for some businesses, killing – or at least slowing down – the competition is a KPI.
And if you have unethical marketers at your disposal they can help. They can run blackhat SEO tactics on your competitor's website and then report them to Google. They can create profiles on popular review sites and pepper your competitor's business with negative reviews. Or they can post reviews so gushingly positive that they have to be fake. Maybe they even use the same names as some of your target company's employees so the breadcrumbs are impossible to miss.
So, what are the consequences of nobbling the competition?
Blackhat SEO can damage your website. Posting fake reviews can damage your reputation. But a systematic campaign designed to hurt a competitor goes beyond unethical marketing. The fallout if you got caught wouldn't just be potentially irreparable harm to your character (that's the brand and the individuals involved), but it could land you in court.
And where is nobbling the competition on the unethical marketing scale?

Unethical Marketing Example #4: Trivialising Issues People Care About
One of the biggest marketing success stories of 2018 and one we've written about on this blog was Nike's decision to use Colin Kaepernick – former NFL star and social activist – to front its Dream Crazy campaign.
Embracing Kaepernick and aligning itself with his values was a risk for Nike. It could have faced a more serious backlash from people who interpreted his national anthem protests as unpatriotic. Perhaps a bigger risk was that the progressive young people who supported Kaepernick could have objected to a global apparel brand hijacking issues they care about. Nike afterall is a major sponsor of the NFL, the organisation with which Kaepernick is still locked in a legal dispute.
Some brands only saw the upside and none of the risk from Dream Crazy. That's at least one explanation for this:
So much has been written about this disaster that it was tempting to leave it out. But this wasn't just a gaffe. This was an ethical failure. Making light of issues that are literally life and death for some people isn't just clumsy and inappropriate. It's wrong.
But Pepsi is not alone when it comes to putting opportunism ahead of ethics. This is how AT&T, the US phone company, marked the anniversary of 9/11 in 2013:
So, what are the consequences of trivialising issues people care about?
When marketing campaigns go wrong, brands have to hope that the damage stops at a bit of embarrassment, some social media firefighting and an awkward apology.
Here's an example. In 2015, Starbucks spilled latte on its freshly-pressed white trousers when it tried to "create a conversation" about race. The Race Together campaign encouraged Starbucks baristas to discuss race with their customers. You can read the internal memo Starbucks distributed to staff here, courtesy of Gawker. The whole thing was pretty cringeworthy and opened the company and CEO Howard Schulz to ridicule on social media.
But when brands steam right through hamfisted into unethical then they don't just have people laughing at them on the internet. They make people really angry. Pepsi attracted a torrent of criticism on social media for its Kendall Jenner ad. When Martin Luther King Jr's daughter is calling you out on Twitter you know you've got real problems.
If only Daddy would have known about the power of #Pepsi.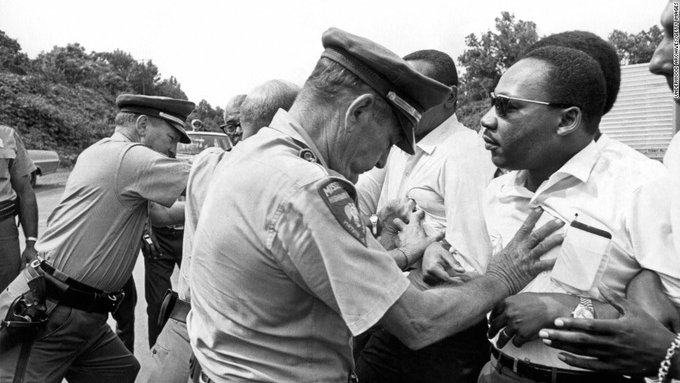 Where is trivialising issues people care about on the unethical marketing scale?
Unethical Marketing Example #5: Making Stuff Up
Marketing is a creative profession but there are limits when it comes to using artistic license to jazz up your campaigns. Last year, Spotify, the music streaming platform, ran a much-talked-about marketing campaign driven by its users' data.

So @Spotify's '2018 Goals' campaign is also advertising goals.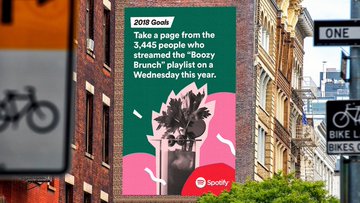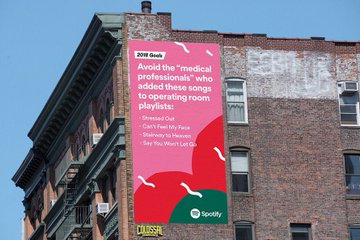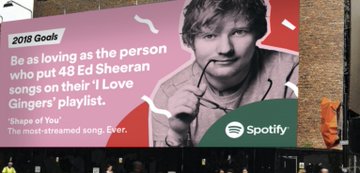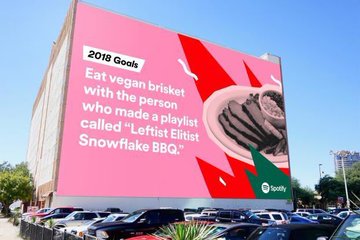 655:12 AM – Nov 30, 2017Twitter Ads info and privacy23 people are talking about this
Using your customer's data for marketing purposes can be risky. But Spotify's campaign was widely praised as innovative and funny. Unsurprisingly it inspired some copycat campaigns. The most notable – largely due to the subsequent controversy – was from fintech start-up, Revolut.
Earlier this year, Revolut took Spotify's idea and ran a marketing campaign using its own customer data. But it turns out people are a bit more sensitive when it comes to their spending habits. Revolut got plenty of attention but not the kind its marketing team wanted. This dressing down from The Guardian columnist Christina Patterson is a good example.
Sorry @piersmorgan, but we couldn't resist. cc @GreggsOfficial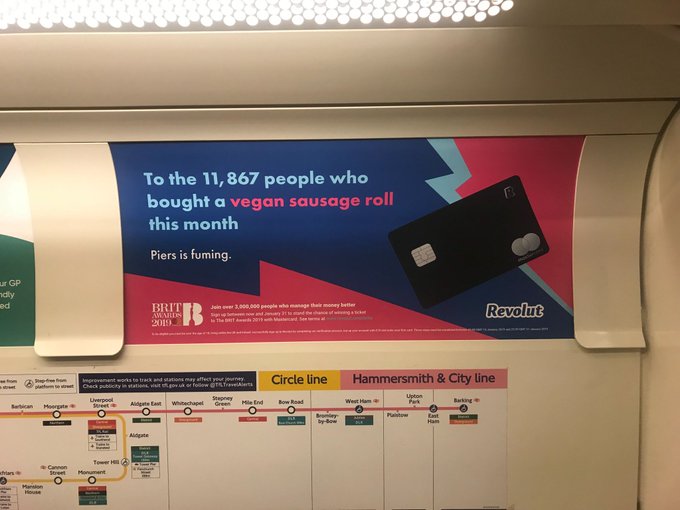 1,00812:28 PM – Jan 31, 2019Twitter Ads info and privacy172 people are talking about this
The controversy surrounding the campaign didn't stop there. Where Spotify had mined the data of its 90 million subscribers to drive the creative for its ads, Revolut had taken a different approach. Its numbers were made up.
Canny observers pointed out that a digital banking app might know how much money its 3 million users had spent at the local baker. But not what they spent it on. So, when Revolut's marketing team said 11,867 people bought a vegan sausage roll last month, they were getting creative with their creative.
So, what are the consequences of making stuff up?
You might be forgiven for thinking Revolut's marketing campaign was pretty harmless. Spotify laughed off the idea that it was a rip-off. And the made up numbers feel like relatively minor ethical infractions.
But finance companies – even sexy start-ups – are tightly regulated. So when the Advertising Standards Authority (ASA), the UK's advertising watchdog, received complaints about the campaign, it referred Revolut to the Financial Conduct Authority (FCA), the industry regulator.
And where is making stuff up on the unethical marketing scale?
Unethical Marketing Example #6: Undercutting Official Sponsors
We do content marketing at Castleford, so we wanted to include an ethical conundrum that a lot of content marketers run into. If you have an agile content marketing team you can respond to spikes in interest around certain events.
So, for example, during the Australian Open more people search of tennis-related keywords on Google. You don't need Google Trends to tell you that. But since we bothered to check, here's the graph:
If you can relate tennis to your business, products or services, January is a good time to create some tennis-related content. It gives you the opportunity to tap into this increased demand, not just in search but on social media and in your email campaigns. And creating tennis-themed content is probably a lot cheaper than sponsoring the Australian Open.
So, what are the consequences of undercutting official sponsors?
Content marketers have to be careful here. Major sporting events are big business and a lot of the money comes from sponsors and those sponsors expect their investment to be protected.
Take the football World Cup, for example, which took place last summer in Russia. FIFA, the organising body, has no fewer than 16 official partners. If you outbid your main competitor to be a FIFA sponsor, you wouldn't be too happy if that same competitor produced so much football content during the tournament that it looked like they were the official partner, not you.
That's why organisations like FIFA take a tough line on brands trying to attach themselves to their tournaments without paying the cover charge. Content marketers planning to hijack the next World Cup might like to start reading FIFA's brand marketing guidelines now.
And where is undercutting official sponsors on the unethical marketing scale?
Unethical Marketing Takeaways
Thank you for reading this far. To wrap things up we've pulled together some handy unethical marketing takeaways:
Blackhat SEO tactics can get you a short-term gain but a ranking penalty can have a devastating impact on your website
Reviews are an important source of social proof and can help close deals. But if you get caught posting fake reviews you're likely to face serious embarrassment
Using blackhat SEO and fake reviews against your competitors is not only unethical but also could be illegal
Tapping into trending topics has great potential for connecting with your audience. But get this wrong and people will laugh at you, get mad at you and question your ethics
Marketing is all about creativity but making stuff up is always a bad idea. If you're in a highly-regulated industry the consequences could be more serious than some negative headlines and withering tweets
Major sporting events are excellent marketing opportunities. Remember that some brands pay to be official sponsors. Even if you're okay ethically hijacking the event, you might find yourself on the organising body's radar.
By Adam Barber.
This article was originally published on Castleford. Read original article here.